EWMC San Diego and Imperial Counties Chapter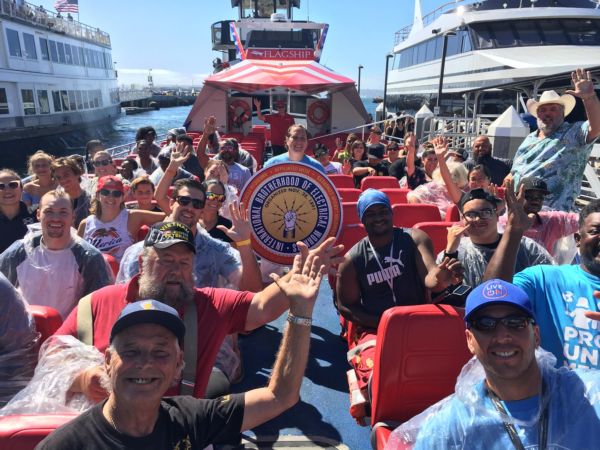 This is a list of a few of the things that we have done recently and what we have scheduled for upcoming events. First and foremost we are actively participating with local school districts to promote careers in the Electrical Industry. We have a solar trailer that we take out to the schools and use it to educate students. As you can see in the photo it has NECA, IBEW and EWMC logos on it and it is an EWMC Event that we do regularly at schools. We recently got involved with a company named Sababa Water. This company is actively working to fight childhood hunger in the United States. For every bottle of water sold they donate a meal for a child in need. For more information their website is https://www.sababawater.com. A sub-group of EWMC named Alianza recently was formed in our local. They have created bylaws and elected officials. They recently had a picnic which I have included a photo of. Alianza is currently involved with the Chula Vista Elementary School District and the Chula Vista Library with a project called Energy Station. https://workforce.org/news/chula-vistas-innovation-station-and-energy-station-take-students-full-steam-ahead. This project provides an opportunity for students to learn about technology, engineering and science. We also had our annual EWMC Golf Tournament which raised over $20,000. Recently some EWMC members were out in the community encouraging people to vote and representing the IBEW. For the National Day of Service we are planning to pass out turkeys to families in need. This is a large event sponsored by many groups and we are looking forward to having the opportunity to be out in the community representing the EWMC. We also have an event in December where we will be installing Christmas Lights on Bridges and doing neighborhood improvements. The exact date is still to be determined but we have been doing it over the last few years.
Golf: Alex Pucci, Jim Westfal, Jeremy Abrams, Duncan Abrams
Alianza Picnic: Albert Castillas, Alex Pucci, Richard Cuevas, Kevin Alvin, Maximo Odanga, Nephi Hancock, Luis Gomez
Get out the Vote: Alex Pucci, Cristina Marquez, Desiree Bates, Lynn Minor and son, non member, Cinna Brown, Nephi Hancock
Solar Project: Joe Heisler, Cas Wesolowski, Billy Johnson, Rhianna Rodgers, Kevin Alvin, Andy Berg, Steve Step
Boat Ride: General Members and their Families.